Kiki Lombarts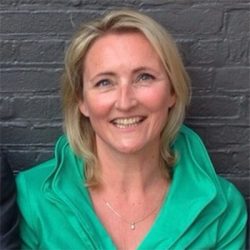 Kiki Lombarts is leading the Professional Performance & Compassionate Care research group at the Amsterdam UMC. In 2013, she was appointed Professor in the subject area of physicians' professional performance. In her inaugural speech (2014) she introduced the 3 pillars of professional performance (striving for excellence, humanistic practice and accountability) that have become a source of inspiration for physicians, supervisors, educationalists and researchers.
'To connect' is the word that fits her and her way of working. She is convinced that by bringing together people, ideas, disciplines, research fields and theory and practice, new insights and opportunities come to light. Kiki finds this an exciting process. Building bridges and venturing on new paths instead of the old ones. She is happy to see this also happening in her research group. Researchers with different backgrounds, interests, qualities and personalities support, challenge and inspire each other. Together they are able to come to really exciting results in both research and practice. And in the meantime they are also having fun!
Since 1992 Kiki Lombarts has been active in various roles in Dutch healthcare: as quality improvement staff (Quality Improvement institute CBO, Utrecht), as an independent management consultant, as researcher (University of Amsterdam, Amsterdam) and as member of the Governing Board in multiple hospitals (currently: Amphia Hospital, Breda). Her interest has always been – and still is – physician performance and continuous professional development. After completion of her PhD dissertation on "Visitatie of medical specialists" (University of Amsterdam, 2003), Kiki worked on the development of new doctor-led quality management models, such as visitatie or external peer review (2004) and the evaluation of individual physician assessment (IFMS, 2007). She was able to consult many specialist groups and their professional organizations on various quality improvement topics. Since 2007, her focus also includes the quality of residency training programs. She served on several national committees on Graduate Medical Education. In 2007 she lead the development of the SETQ (System for Evaluation of Teaching Qualities) system, which turned out to be the start of a larger (online) professional performance program now including many more evaluation tools for professional performance of doctors. Read more about Kiki on her  personal website.
Naam – functie
Prof. Dr. M.J.M.H. (Kiki) Lombarts
Professor Professional Performance
Contact
Amsterdam UMC
Meibergdreef 9, J3-217
1100 DE, Amsterdam
m.j.lombarts@amc.uva.nl
+31 (0)20 566 1275